Unlock the magic of tuff tray with these fun activities!
If you're looking for a fun and creative way to bring the outdoors into your classroom or learning environment, then look no further than the tuff tray.
This article contains affillate links at no cost to you.
A tuff tray (or tuff spot you might know it as) is an ideal tool for forest school leaders, early years educators and primary school teachers alike; it offers endless possibilities when it comes to outdoor education.
With its shallow walls that can contain resources while allowing freedom of movement, there are so many activities that can be done with this versatile piece of equipment!
From nature art projects to sensory exploration adventures – even maths games and science experiments – these five ideas will help get those creative juices flowing in any educational setting. So grab your tuff spots and let's explore some amazing ways we can use them outside!
1. Nature art
Works best for: Preschoolers and KS1 (can be adapted for older groups)
Provide paper, classic wax crayons, and/or paint in the tuff tray.
Nature art is a great way to explore the outdoors with a Tuff tray!
Leaf rubbing
Leaf rubbings are an easy and fun activity for kids of all ages. Collect leaves from your outdoor environment, place them on top of paper, and use crayons or coloured pencils to rub over the leaf's surface.
Great for building fine motor skills with the preschoolers at our setting. They always enjoy revealing the leaf's unique shape and texture in beautiful detail.
Natural paints
Painting with natural materials is another creative activity that can be done using items found in nature such as rocks, sticks, pinecones, flowers, etc. Kids can dip these objects into paint or watercolours and make interesting patterns on paper or canvas.
For a more forest school take on painting, make your own paint by mashing up foliage or mixing mud with water and using that. Trust me, our preschoolers got quite muddy when we did painting with mud!
I'm not sure their parents thanked us that day 😊
Collages and 'finding'
Making a nature collage is also fun, and the tuff tray provides the frame. Invite children to bring their found items back to the tray and then arrange them in patterns, groups or by colour.
We find that encourages children (and parents, when we have parents in for a session as 'finding' is a good thing to do as a parent/child theme in the woods) to observe their surroundings closely while collecting items like feathers, shells, and stones.
Just remember to encourage children to only take what is already on the woodland floor.
Read next: Easy summer forest school ideas.
2. Sensory exploration
Works best for: Preschoolers and KS1
Sensory exploration is an exciting way to engage with the outdoors using a tuff tray! Exploring textures and shapes can be as simple as collecting leaves, twigs, rocks, and other natural items from your outdoor environment. Feel the texture of each item – are they smooth or rough? Are they round or pointed? Encourage children to compare and contrast different objects in their collection.
Water fun
In the warm weather, our preschoolers at Amber really love the opportunity to paddle or float small boats, and a tuff tray means they can do that without having to actually be in the forest.
Water play is great on a hot day, and the tuff tray is just the right depth for providing a bit of water fun to cool down.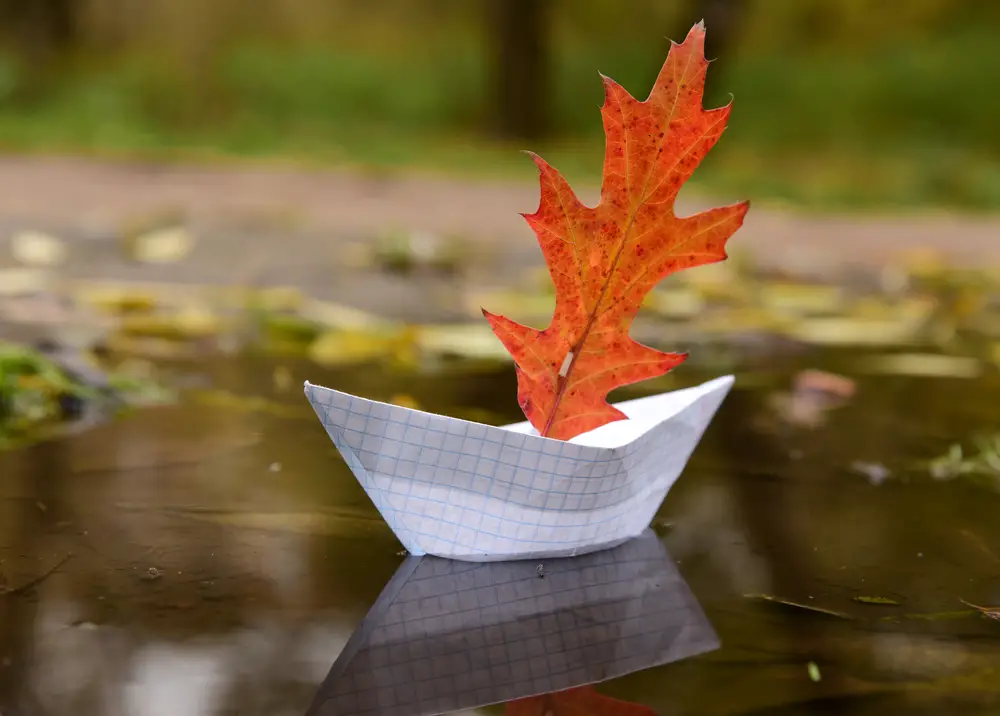 Smell and taste
Smelling and tasting natural items is another fun activity for kids. Ask them to take a deep breath of fresh air outside before bringing back some interesting smells into the classroom. Collecting pine needles, flowers, herbs, fruits – anything that has an interesting scent – will give children something new to explore.
Bring the items back to the tuff tray to share with the group. Have them choose their favourite to talk about.
Messy play
I'm just going to say it: fill the tuff spot tray with shaving foam and let them have fun!
We'll call it mark making!
Messy materials wipe straight off, if you can stand the clean up (of the kids as well as the equipment!)
Get a tuff tray and stand as an option for slightly older children or if you prefer to keep the children off the floor!
3. Outdoor maths
Works best for: KS1 and KS2
Outdoor learning is so important and it can be a way to make maths fun and engaging.
OK, this is far more curriculum-led than an activity in line with forest school principles, but frankly bringing a tuff tray to forest school isn't really in the ethos of forest school either, let's be honest. A big ol' plastic tray in the middle of your woodland area rather defeats the object of being in nature.
However, in the real world we know that schools are often constrained by resources, the curriculum and time, and want to bring a bit of outdoor learning into the day, and a tuff tray can help you take maths outdoors.
Gather items from your outdoor environment such as leaves, twigs, rocks, or whatever you have in abundance at the time of year (we have a glut of conkers, for example).
Lay them out on a large tuff tray and invite the children to interact with them.
Counting and sorting objects
Counting objects is a great way for children to learn basic number recognition and counting skills. You can use natural items like stones or leaves in the tuff tray for this activity. Have the child count out how many of each item they have in their tray then sort them into groups based on size or colour.
This helps with developing fine motor skills as well as problem-solving abilities.
Measuring
Using natural items like sticks or stones in the tuff tray allows children to measure distances between objects or even compare sizes of different objects. Ask questions such as "Which stick is longer?" or "How far apart are these two stones?" This encourages critical thinking while also helping develop spatial awareness skills.
Use a tuff tray with lid if you want to keep your resources in place until the next day.
Estimating
Estimating quantities is a great way to help children learn basic maths concepts while using natural materials.
Place several (quite a lot but within the realms of what they can count up to – so make it age and stage specific for your group) small objects in the tuff tray and ask questions such as "How many do you think there are?"
Encourage them to make guesses without counting first so that they can begin developing estimation skills which will be beneficial when solving more complex problems involving numbers.
4. Science experiments
Works best for: any age, just adjust to the age of the children you have in the session
Make science experiments an outdoor activity. The tuff spot acts like a giant inspection tray.
From investigating seeds and plants, to exploring rocks and minerals, there is so much to learn. Collecting items from your outdoor environment such as leaves, twigs, rocks and more can be used for many different science experiments.
Investigating seeds and plants
With these versatile trays you can easily collect a wide range of seeds or plants from around your area. Once collected, use the tray to observe how they look up close – their shapes, sizes and colours.
You could also plant some of them in soil or water in the tray and watch them grow over time!
Exploring rocks and minerals
Rocks come in all sorts of shapes, sizes and colours which makes them perfect for exploration with a tuff tray! Use it to collect samples from around your area then sort them into piles based on colour or size. You could even make patterns out of the rocks using natural items like sticks or pinecones!
Observing insects and animals
Insects are fascinating creatures that can teach us so much about our environment. Use your tuff tray as an observation station by collecting insects such as butterflies or ladybugs/ladybirds then carefully placing them inside the tray where you can observe their behaviour up close without disturbing them too much.
Tuff spots also make great trays for minibeasts. They are perfect for observing small animals or larger ones like the lizards or frogs that may live in your setting.
Need help finding minibeasts? Check out our guide to pond dipping.
Experimenting with nature can be an exciting way to explore when using a tuff tray. Get creative and use what you find outside while learning something new in the process.
Using a tuff tray as an outdoor learning tool can help children explore the natural world and discover the wonders of science.
5. Creative play ideas with tuff trays
Works best for: any age!
There are loads of creative ideas that we've tried, centred around the tuff tray for resource collection and creating a stable foundation on which to build things.
For example:
Building structures with natural items like leaves or twigs can keep kids' attention and encourages problem solving and creativity.
Making music with natural instruments such as sticks, stones, and shells.
Make mini worlds in the tuff tray as part of sand play, or with mud, water and other resources for pretend play with natural props.
When building structures, it's important to provide plenty of loose parts for children to use in their creations. Leaves, twigs, pinecones and other small objects found in nature make great building materials.
We have an abundance of conkers in our setting – could children balance them in a tower? (This is hard. We tried for a long time. If it's too frustrating, check out our other activities to do with conkers.)
Encourage kids to experiment by stacking different shapes together and adding elements like pebbles or feathers for decoration.
Making music with natural instruments is another creative way to engage children outdoors, and it can tie in with the curriculum, for example, the Stone Age or a music lesson.
Rocks and shells make great shakers while sticks can be used as drumsticks on logs or rocks. Sit around the tray and invite the children to select items to 'play'. Then make music together.
Pretend play using natural props allows children's imaginations run wild! We've seen children make amazing mini worlds from sand, bringing their cars to run through tunnels and roads they've made in the tuff tray.
Tuff tray buyers' guide
What to look for in a tuff tray
There are plenty of options when it comes to buying a tuff tray for your preschool or outdoor education setting.
Look for a tuff tray that:
Has lots of good reviews
Is well-made
Is the right colour for your setting (I prefer brown/green/natural coloured ones over, say, red)
Has secure delivery in decent packaging!
When I ordered a tuff tray online, it was delivered on time, but it was broken. The packaging was so weak that the corners of the tuff tray had got damaged. I don't know whether that happened in transit or not. I ran out to the delivery van driver and told him it was broken, as it was clear to see the damage even before the parcel was unwrapped. He told me to take it up with the supplier as that was the condition they received it in.
Honestly, that's highly unlikely. I expect it was damaged during transit as a result of poor packaging.
Either way, we had to return it, which was a pain.
Stands
Personally, the jury is out on whether a stand is necessary or worth it.
We've never had one with a stand as we've always place the tuff tray directly on the ground, but there are stands available if you think it's more appropriate for your resources and activities to be off the ground. Stands come at an additional cost.
Active World stands come in different heights and also with a wheelchair accessible option that is higher than the standard heights.
Lids and covers
A solid lid is good if you are wanting to keep resources safe from wildlife (or other children) overnight, for example if you are running the session with a different group the following day.
However, an alternative is a polyester tuff tray cover that you pull over the resources. These ones work best if you have a stand so you can easily fit the elasticated edges over the tray, and then ping it off again when you need to.
Are tuff trays worth it?
Tuff trays can be a great asset to any outdoor education programme. They are sturdy, durable and easy to clean, making them ideal for activities such as mud play or art projects. The large size also allows multiple children to use the tray at once, allowing for collaborative learning opportunities.
Additionally, they provide an excellent way of containing messes and preventing spills from spreading too far, although we found that sand play in a tuff tray still results in the sand ending up everywhere, because… it's sand!
All in all, activity trays are definitely worth it when considering their practicality and convenience in the outdoors.
What can I use instead of a tuff tray?
If you don't have access to a tuff tray, there are plenty of alternatives that can be used for outdoor education.
For example, an old baking tray or shallow plastic container can be used as a makeshift sandpit or water play area. A sturdy cardboard box with some holes cut in the sides makes an excellent mini-greenhouse for growing plants and flowers.
Finally, tree stumps and logs make great seats for children to stand or sit on while working around the tuff tray (if you have a stand). Alternatively, we've found it best to use cut up foam camp mats for them to sit on around the tray.
What is the point of a tuff tray?
A tuff tray is a versatile outdoor learning tool that can be used in a variety of ways. It's an ideal resource for forest school leaders, early years educators and primary school educators as it allows them to create engaging activities with minimal resources.
The shallow depth makes it easy to fill with sand, water or soil and the large surface area provides plenty of space for children to explore their environment.
Its robust design means it can withstand all weather conditions making it perfect for use outdoors. With its versatility, durability and portability, the tuff tray is an invaluable resource for any outdoor educator!
Need more ideas? Sally Wright's book, 50 Fantastic Ideas for Tuff Trays is a good starting point.
What is a tuff tray called in USA?
A tuff tray is an open-topped plastic container that can be filled with sand, water, soil or other materials to create a sensory play environment for children. In the United States, you might know of this type of tray as a "sandbox table" or "sensory table". It provides an engaging way for children to explore their natural environment while developing problem solving skills and creativity.
Before you go…
We know tuff trays aren't 'proper' forest school. But we also know that outdoor educators have to draw on all the resources available to them, so why not consider investing in one for your setting?
Whether you're looking to explore nature art, engage in sensory exploration or experiment with science, there are plenty of activities that can be done with a tuff tray. Maths activities and creative play ideas are also possible with this versatile tool.
The limit is really your imagination – why not invite the children to suggest what they want to do with it?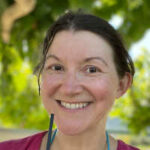 About the author: Elizabeth Borley
Elizabeth is our forest school administrator, responsible for running the website and managing bookings for afterschool clubs. She is a member of the Forest Childcare Association and loves walking in the woods and places with a view. As a parent, she understands the value of children spending time outdoors.