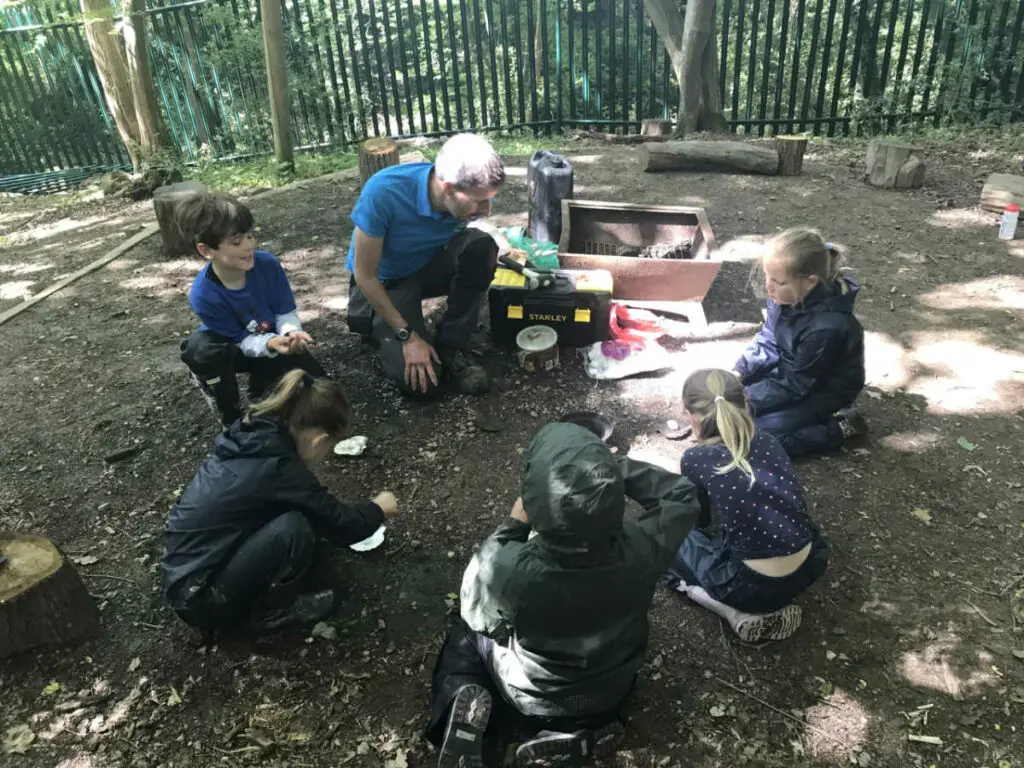 We are available to run in-school forest school experiences, such as outdoor learning days in Sussex, woodland walks, and forest school day of activities on your school grounds.
We can organise activities such as fire-lighting, low-ropes, hammocks, bug-hunting, clay play, charcoal, den-building, and general free play in the woods and water if your site has a stream!
Fire-lighting is always popular and we can offer a range of ways to light a fairy fire so that everyone can see what it feels like to create that spark! For example, lighting fires with dragon sneezers, batteries and wire wool.
Once the fire is going, we can also offer a range of snacks such as marshmallows and hot chocolate or sausages in buns and can cater for all dietary requirements.
We encourage the children to freely choose their activities and enjoy themselves.
In the past, Jon has worked with primary and secondary schools offering experiences for small groups or whole year groups. Ideally, children are able to dedicate at least a morning to being outdoors.
He is also available to lead guided walks and trips to a local woodland with activities on site.
Normally, events like these are supported by the teaching staff to ensure an adequate ratio of adults to children, but we can discuss all the details with you to ensure your class or year group is able to take part in a safe, fun day, aligned with their learning or simply as an opportunity to let off steam and do something different!
What it's like working with us
Here's what Miss Ellie Edsor, Pennthorpe Year 3 Class Teacher had to say:
We have had the pleasure of inviting The Practical Forest School to Pennthorpe on several occasions. Jon has always been a delight to work with; making organisation a dream and he always does his best to accommodate all of our requests. The children thrive in their learning outdoors and with Jon's interactive sessions, they have relished the opportunities to explore and learn outdoors, take part in woodland play, to sit by a roaring camp fire and cook, all whilst getting completely covered in mud! A huge thank you to Jon and The Practical Forest School for their experienced, friendly and practical approach to forest school learning!