Forest School Leader Corner: Listen, Read, Watch [November 2021]
Has winter arrived properly where you are? We've got our hats, gloves and warm clothes at the ready. Here's what we've been reading, watching and listening to this month.
Listen
Children of the Forest has a podcast about their very active forest school and their experiences. There is some swearing so it is probably NSFW. Gemma and Lewis are full of humor and advice.
Their most recent podcast is about CPD. Very enlightening and helpful information to have right now.
Read
The Forest School Association has a really great article on the Autistic Play at Forest School 
 Forest School practitioner and trainer in Italy, Stefania Donzelli, provides a great insight into how we can understand better the play characteristics of autistic play.
Watch
Forest School Lou held a Forest School Q & A. We've queued it up to watch because this session explored how to communicate effectively with helpers and managers, as well as tips for starting out as a new Forest School leader, ideas for play resources on a school grounds site and nature connection.
---
Hope you enjoy this month's roundup. Have a suggestion for a future one? Leave it in the comments.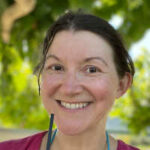 About the author: Elizabeth Borley
Elizabeth is our forest school administrator, responsible for running the website and managing bookings for afterschool clubs. She is a member of the Forest Childcare Association and loves walking in the woods and places with a view. As a parent, she understands the value of children spending time outdoors.