Spring Outdoor Scavenger Hunt with free printable
If you're looking for spring scavenger hunt ideas, you're in the right place!
The weather is starting to mellow, the days are longer. And after being cooped up during the winter months, it feels like it's time to get outdoors.
Ways to use a scavenger hunt at this time of year
There are lots of ways to make use of a scavenger hunt during spring. Here are some ideas:
Use it as an incentive to get kids outdoors! In our experience, children love having something to tick off and find
Use it as a game for an outdoor spring birthday party idea
Take it on holiday with you and use it as something to do with the children if you are camping or staying away from home (or just use it on a walk if you are having a staycation)
Use it in your backyard — see how many items you can find in an area they know well
And, of course, use it in educational and forest school settings as an activity for children to opt into as part of their outdoor explorations.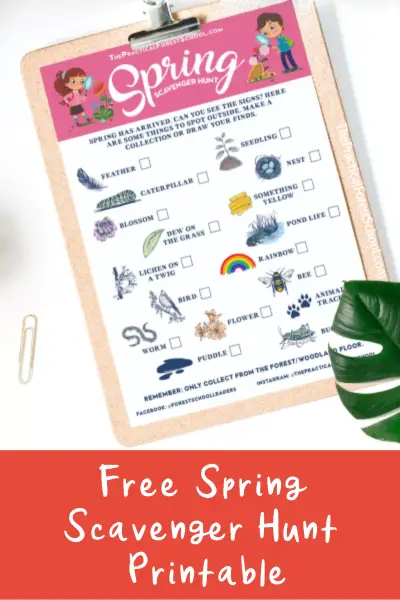 I love this PDF worksheet! It's so bright and attractive, which is perfect for encouraging children to get outside.
As someone who works with preschool children, it's a perfect activity for small hands and little legs. A spring scavenger hunt for preschoolers is an easy activity to set up and do.
You can use it with your preschool or primary-aged children, with your own family, or in your Forest School setting.
This is the perfect time of year to be looking out for tiny buds, new life and more. What will your little detectives find in nature?
What's on the PDF Spring scavenger hunt checklist
Download the printable list and take copies out with you so you can tick off the signs of spring. Take it with you when you wander around the woodland, forest, or even your local urban area.
Here is what is on the checklist:
Feather
Caterpillar
Blossom
Dew on the grass
Lichen on a twig
Bird
Worm
Puddle
Flower
Seedling
Nest
Something yellow
Pond life
Rainbow
Bee
Animal tracks
Bug
Tips for Spring scavenger hunts
It's still a little bit chilly, so make sure everyone has the right kind of clothes. Layer up, and pack a sweater just in case.
Remember: If children seem to want to collect things, they should only collect fallen items from the woodland floor, and ideally replace them before they leave. Avoid taking things home with you, and avoid disturbing wildlife and living plants.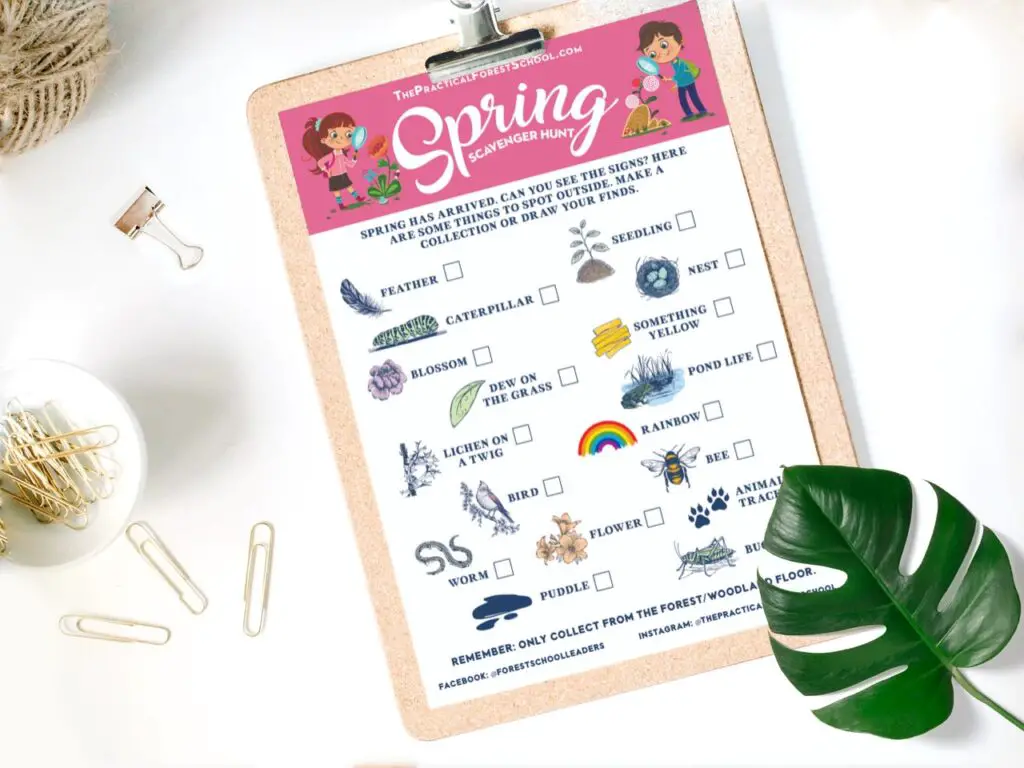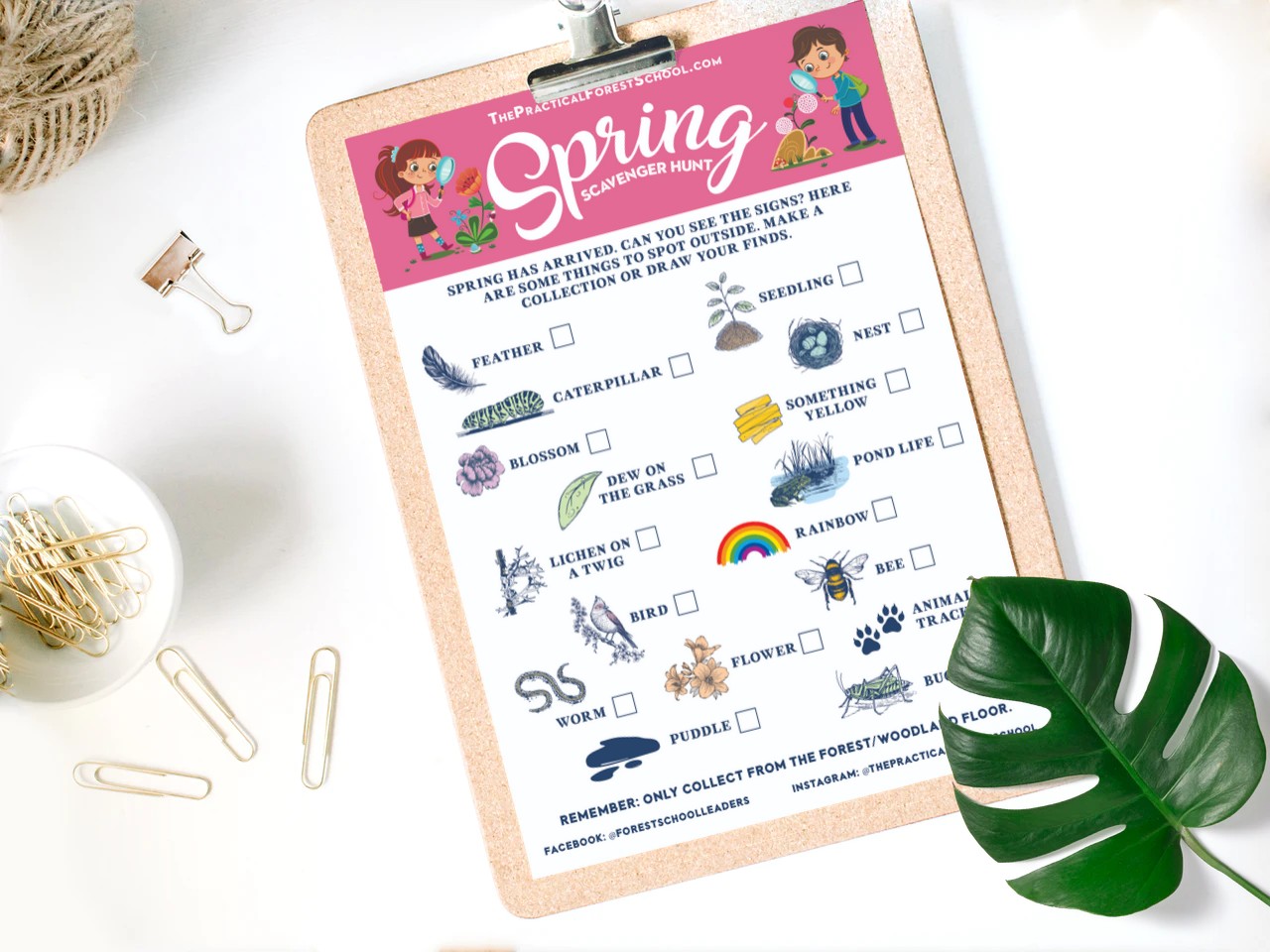 At this time of year, so much is growing that there is a lot of new life on the forest floor. If possible, try to avoid collecting anything as you don't know what you might be disturbing.
And of course don't collect living creatures and steer clear of mushrooms.
Instead, children can draw what they find. If you are feeling really crafty, how about making plaster of paris moulds of any animal tracks or horseshoe prints that you find?
Keeping the activity going
Some children are going to be super fast at finding items, and if you are in a nature-rich area they probably won't have to look very far before they've found everything on the list!
As a parent, I know the feeling of 'oh, have you finished already?' And while we take a child-led approach, sometimes children might need a bit of help working out how to keep an activity going if they are really enjoying exploring and finding.
You can add extra things to the list — make up some additional items they need to find.
You can also ask questions about what they've discovered. That will also help them reflect and think about what they've seen, felt, smelled, heard and so on.
If you're stuck for things to ask, here are some question prompts:
What did you find that is smooth/rough/prickly?
What did you find that is damp/dry?
Was there anything on the list you didn't touch/pick up? Why?
What is the most delicate object you found? Why do you say that?
How would you describe [item]?
Where did you find [item]?
Why do you think [item] ended up looking like that? What might have happened to it?
How are you going to use this free spring scavenger hunt printable list? Let us know on our Facebook page!
Pin for later reading: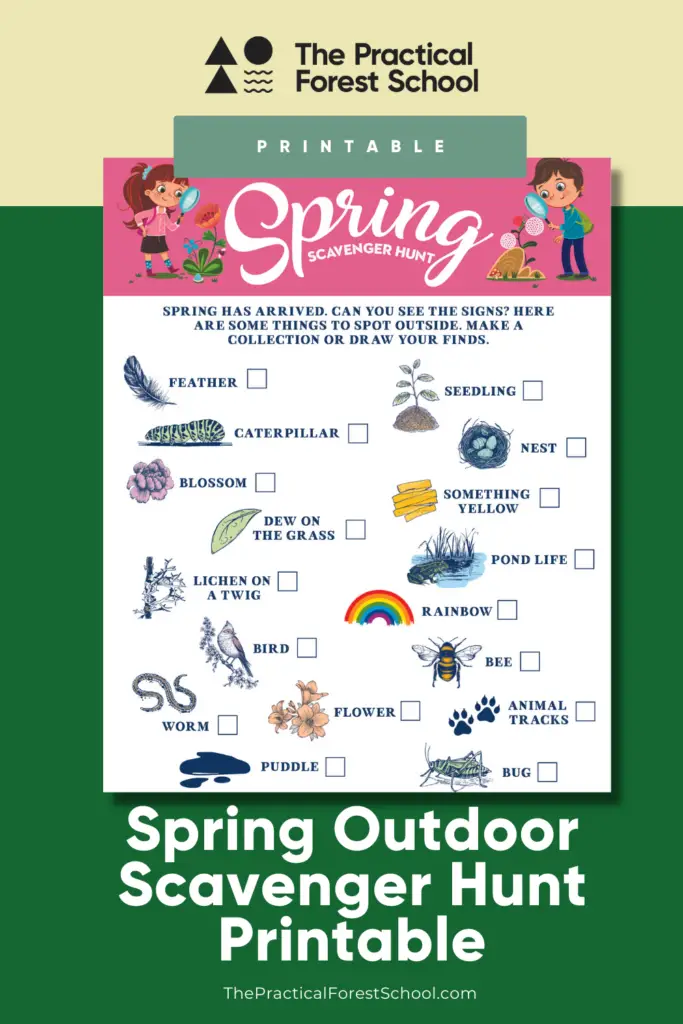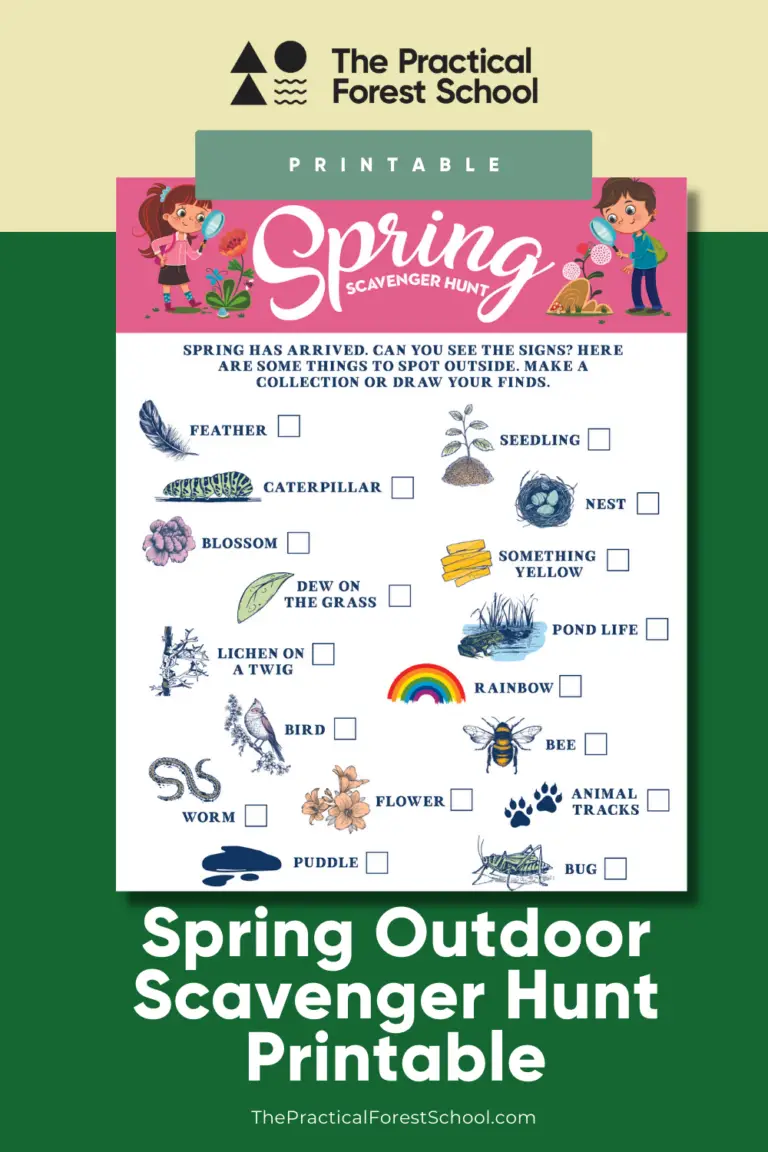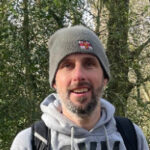 About the author: Jon Borley
Jon qualified as a Level 3 Forest School Leader with the Sussex Wildlife Trust. He works independently as a practitioner running forest school clubs and also within schools both in a forest school capacity and as an outdoor learning teaching assistant, working with preschoolers to secondary-aged children. He has previously led sessions for adults as part of professional development events for the Sussex FSA, and is a member of MIAS.