Knots for Forest School: New Training!
​​In our survey last year, 48% of participants said learning more about knots and rope work would help with their forest school provision.
Well, it just so happens that as an ex-professional sailor Jon is a bit of a rope expert. For his stay-at-home-during-lockdown project in the pandemic he re-made this knot board from scratch:
Come and join him for an online, practical training session focusing on rope set up for forest school sessions. It's on 31 August 2023 at 7.30pm BST.
In this hands-on online class, Jon will show you some efficient ways of using knots that are easy to untie afterwards. They are especially good for tensioning rope, for example in making a rope bridge between two trees or for slinging a tarp up.
You'll be able to follow along with at home and there will also be time for your questions. We'll also give you a quick reference crib sheet for four easy low ropes set ups that you can use with your new knot knowledge in your setting.
We will record the Zoom call so even if you can't join live, you'll be able to get the recording. Even if you do attend live, having the recording means you can play it back again in case you want to run though the knots another time.
To join in with the practical session please ensure you have:
🪢 A length of thin cord about a meter long (paracord would be ideal but other rope will do as long as it not too thick)
🪢 Something to tie your rope too, like the legs of small upturned table or chair.
It would also be good to have your camera on if you have one so Jon can see your knots.
Jon's previous career was a navigational officer working on some of the world's largest super yachts (yes, that made the early years of married life fun!). He worked in a chandlery when he came back from sea and he also teaches rope and knot work to teenagers and adults as an Advanced Instructor in the Sea Cadet Corp.
The training costs £5 and will last around an hour. Feel free to email your questions in advance ([email protected]) or message me and I'll pass them on. You can send questions even if you can't make it live Jon will try to answer them in the class.
Hope to see you online in the chat!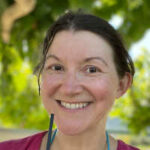 About the author: Elizabeth Borley
Elizabeth is our forest school administrator, responsible for running the website and managing bookings for afterschool clubs. She is a member of the Forest Childcare Association and loves walking in the woods and places with a view. As a parent, she understands the value of children spending time outdoors.