Forest School Leader Corner: Listen, Read, Watch [January 2022]
Can you believe it's 2022 already? Where did last year go? We hope you had a great holiday break and are ready for the new term! Here's what we've been reading, watching and listening to this month.
Listen
I've added something new to my podcast listening list this month, and I've found Raising Wildlings with Nicki and Vicci.
In series 2, episode 46, they talk about rough and tumble weapon play, which is something I see a lot (at home and in forest school sessions!). A stick can be many things, but often it's a sword or some other type of medieval weapon or gun!
Read
The Outdoors Group has a great article on the fact that Language Matters. Having been a English literature and linguistics student at university, I'm well aware of the way language changes over time and how it matters to have the right words to describe our lived experience.
There's a lot more that could be written about this topic and how it relates to forest school, and TOG has started the discussion by picking up on the language of inclusion.
Well worth a read.
Watch
Forest School Lou has been in conversation with Nic Harding in the last month to talk about the new book, Growing a Forest School, from the FSA.
There is a ton of useful information in here from how to price your sessions, what legal structure is best, advertising your activities, whether you should register with OFSTED and loads more. Well worth a watch!
---
Hope you enjoy this month's roundup. Have a suggestion for a future one? Leave it in the comments.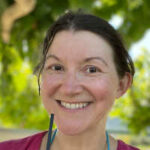 About the author: Elizabeth Borley
Elizabeth is our forest school administrator, responsible for running the website and managing bookings for afterschool clubs. She is a member of the Forest Childcare Association and loves walking in the woods and places with a view. As a parent, she understands the value of children spending time outdoors.